Inga Ivanishvili
Rehabilitation Physician, Manual Therapist
383
The credo of life
Make an Appointment
Need a doctor's consultation?
Submit your information below and please wait for a response.
Working Hours:
Mon.-Fri. – 10:00 – 17:00
Pre-registration required!
Specialty
Rehabilitation, Manual Therapy
Scientific Rank
Professional Skills
Patient Relationship
100%
Professional Development
100%
Personal Information
Date of birth: 30.01.1969
Specialty: Head of the Massage Therapy and Rehabilitation Direction at the Health Professional's Fund, rehabilitation physician, manual therapist, trainer
Place of work: Tinomedi Clinic
Field of activity: Rehabilitation, Manual Therapy.
Medical experience: since 2001
1989-1995 – Tbilisi State Medical University, Faculty of general medicine, specialty – general medicine.
1997-2001 – Svetlyakova Kravchenko Manual Therapy Academy (Tibetan-Ukrainian School of Manual Therapy).
2001 – Retraining course of remedial gymnastics and physiotherapy at the Sports Medicine and Rehabilitation Centre of Tbilisi Health Care Head Office, conferred qualification – massage therapist.
2001-2003 – Sports Medicine and Rehabilitation Centre of Tbilisi Health Care Head Office, managed a practical course of massage and engaged in practice activities.
Since 2003 – has independent, private, continuous practice in both practical activity and individual and team training.
Full range of orthopedic and neurorehabilitation of children and adults. Full range of massage and manual therapy: osteochondrosis, herniation of intervertebral disk, protrusion, neuralgia, arthrosis, coxarthrosis, scoliosis, flat-foot, valgus, children's orthopedic pathologies (a full range of pediatric massage), pathologies of cerebrovascular accident and neurogenetic origin identified from supporting-motor apparatus (soft and spastic paralysis, contractures) is an incomplete list of those pathologies in which manual therapy and kinesitherapy occupy a leading position.
Georgian – Native
Russian – Fluent
English – Medium
Rehabilitation Physician, Manual Therapist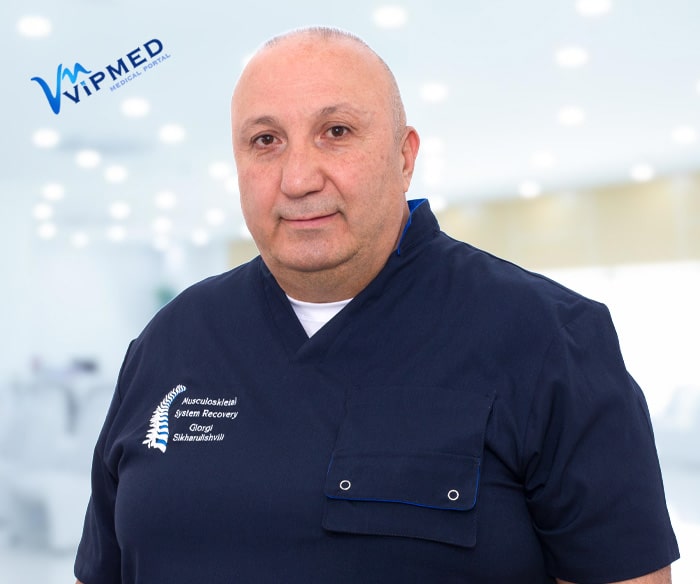 Therapeutic massage and manual therapy