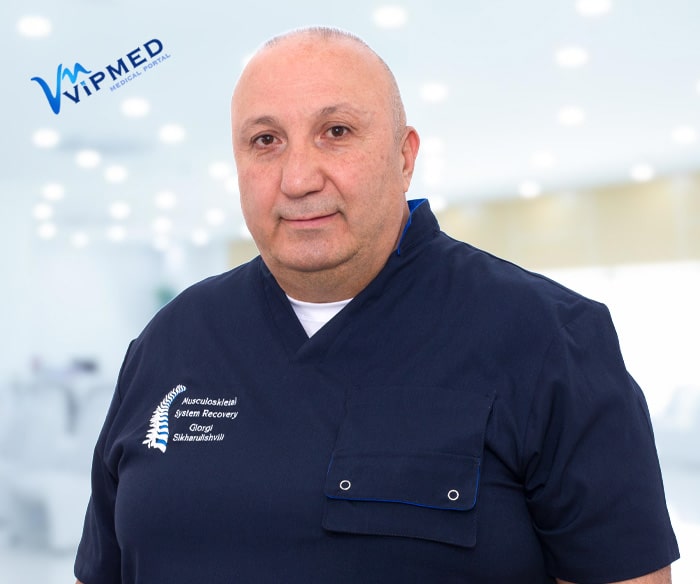 Giorgi Sikharulishvili
Therapeutic massage and manual therapy
815
Giorgi Sikharulishvili - The credo of life
All patients are my feelings, pain, and when I see that they are better – they are my joy…
Make an Appointment
Need a doctor's consultation?
Submit your information below and please wait for a response.
Working Hours:
Mon.-Fri. – 10:00 – 17:00
Pre-registration required!
Specialty
Expert in Therapeutic Massage and Manual Therapy
Scientific Rank
Professional Skills
Patient Relationship
100%
Professional Development
100%
Personal Information
Giorgi Sikharulishvili
Date of birth: 15.06.1964
Specialty: Expert in Therapeutic massage and manual therapy.
Place of employment: Newmed Clinic
Field of activity: Therapeutic Massage, Manual Therapy.
Medical experience: since 1991
2002 – Diploma #96, qualification of masseur-rehabilitator.
2004 – Certificate "Topical problems in restorative medicine, balneology and physiotherapy" (Russia).
1992-2002 – Writers' Polyclinic Ltd
2002-2005 – Medical Сentre for Mother and Child
2005 – Health Centre Nautilus;
2005-2009 – David Tatishvili Medical Centre
2009-2015 – Medical Centre "Deka" Ltd.
2016-2018 – German Clinic
2018-2019 – Altravita Clinic
2019-2020 – Clinic "Kortex"
2020 – 2023 – Clinic Terdi
2023 – Till now – Newmed Clinic
Damage of the human locomotive system becomes a reason for many diseases, among which those widespread are osteochondrosis and arthrosis. At that time a pain often is felt, causes acute restriction of motions. The process of treatment of these diseases is comprehensive and covers both healthy life-style introduction and application of medicines and massage. The expert in therapeutic massage and manual therapy Giorgi Sikharulishvili uses just this very method. He developed ointment "Orient", which is characterized by high efficiency, causes reduction of pain and inflammation in the back, assists to natural regeneration of damaged cartilages, improves blood circulation. It is effective during sport injuries, the ointment is fully phytotherapeutic, consists of only vegetable components and was tried out  on many patients.
Ointment Orient
Medicines' Registration Certificate № Р/ N R 009060
Pharmacological group:
Antiinflammatory, analgesic paratherapeutic agent.
Pharmacological properties:
An active component ingressed – pine contains ascorbic acid and other vitamins, which further pain-relieving effect during inflammation.
Indication:
Ointment "Orient" is applied as an ancillary agent in comprehensive therapy for abatement of pain during inflammatory diseases of articulations and osteochondrosis.
Contraindications:
Hypersensitization to the components ingressed.
Georgian – Native
Russian – Fluent
English – Fluent